CONTENT SPONSORED BY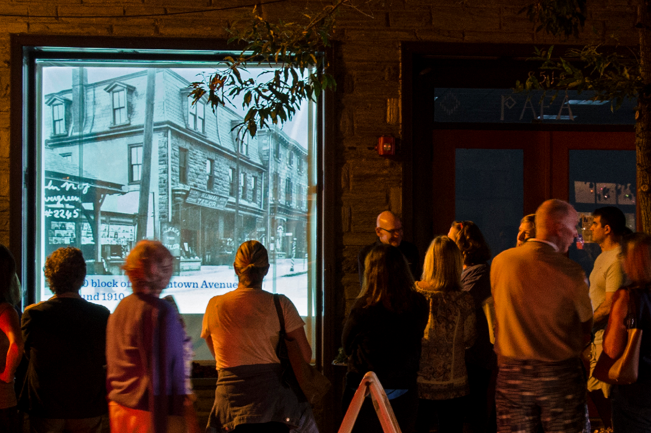 CHESTNUT HILL CONSERVANCY/FOR PHILLYVOICE
The past and present will come alive on October 4 in Philadelphia's Chestnut Hill neighborhood during Night of Lights, an innovative public art exhibit created by the Chestnut Hill Conservancy — and part of Archives Month Philly and the multi-day DesignPhiladelphia festival.
Night of Lights, now in its third year, is a public art exhibit in which historical images and films from the archives of the Conservancy are projected through storefront windows and onto exterior walls, illuminating and activating Germantown Avenue between Bethlehem Pike and Southampton Avenue.
The participatory and community-based event is designed to immerse visitors in the ongoing story of Chestnut Hill, supporting the Conservancy's role as an education center and advocate for the architecture, open space, and social history of the Garden District and its surrounding communities.
The Night of Lights opening reception will begin at 6:45 p.m. at the newly restored Newsstand at 8606 Germantown Ave., and it will include a "Flip the Switch" ceremony to turn on the lights. Night of Lights will run through 9:30 p.m.
Visitors and residents will be able to get their hands on Pastport books, and get them stamped at all 11 projection locations to collect a prize.
Additionally, guests can record their family stories at an oral history station; meet long-time business owners who will become interpreters that evening; listen to the sounds of street musicians; and see neighboring buildings illuminated with colored lights.
Visitors to Chestnut Hill have a large impact on the Philadelphia region. The Northwest Philadelphia neighborhood generates $482 million in economic impact to the five-county region, according to a study by Econsult Solutions, commissioned by Chestnut Hill Institution Leaders.
Night of Lights will coincide with Chestnut Hill's First Friday festivities, which include extended hours for boutique shops and art galleries.
Night of Lights is co-presented by the Chestnut Hill Conservancy and the Chestnut Hill Business District
.