Diabetes is a chronic health condition that affects how your body turns food into energy. If you have diabetes, your blood glucose, or blood sugar, levels are too high. There is no cure for diabetes, but it can be prevented, delayed, and even reversed with healthy lifestyle changes that include: exercise, weight control, and a meal plan. Monitoring blood sugar and medication can also help.
The Chestnut Hill Hospital Diabetes Education Workshop's 4-week program with its interactive discussions can help you understand, monitor and manage diabetes. The program meets every Wednesday from 12:15 – 2:00 p.m. at Center on the Hill. The cost is $5. No registration required. Walk-ins are welcome. Learn more.
Above: The Gothard Sisters, Greta (from left), Willow and Solana, will bring their contemporary Celtic sound to Pastorius Park this Wednesday night in the park's final concert for this season.
'Obsessed' sisters bring Celtic music to Pastorius Park
by Carole Verona
Contemporary Celtic trio The Gothard Sisters will bring "lots of instruments, Irish step dancing, humor, ballads, fiddle tunes and much more" to the closing performance of this year's free Pastorius Park Concert series. "And we're pretty kid-friendly, as well," said Greta Gothard, 32, who will be performing with her sisters, Willow, about to turn 30, and Solana, 24. The concert takes place this Wednesday, July 24 at 7:30 p.m.
The sisters, who are of Scandinavian, Irish and Scottish descent, were born and raised in the Seattle area. "We were home schooled, and our parents played folk and world music around the house. Growing up, we heard a lot of Irish and Celtic music. So we absorbed that from a very young age. We were taking violin lessons and began learning Irish dance after we saw 'Riverdance.' We were completely obsessed with it," Greta added.
The Gothard Sisters soon got involved in the world of competitive Irish dancing and started competing in world championships. One of the competitive events they attended was actually held in Philadelphia. "We were hearing music all the time because they always have live music at the competitions. We were already playing violin, switched to fiddle and started embracing Celtic music and the Celtic tradition," Greta said. The sisters rounded out their sound by adding acoustic guitar, mandolin, bodhran, djembe and whistle.
The Gothard Sisters have been performing, touring and writing music together for 10 years. "We started out as a classical trio. When we became obsessed with Celtic music, we began incorporating it into the show. We started performing together to raise money to go to the world Irish dance championships in Ireland. An agent from Nashville saw us and she said, 'You guys can do something with this.' She gave us her card and started developing the act. It went from there."
Throughout their career, The Gothard Sisters have been Influenced by fiddle players Natalie MacMaster, Eileen Ivers and Liz Carroll, Irish bands like Flook, Scottish singer/songwriters like Dougie MacLean and Julie Fowlis.
"Midnight Sun," their latest CD, is the first of their seven recordings that features all original music. It reached #6 on the Billboard World Music chart, the highest-ranking debut on the chart. They spent seven months in the studio collaborating on the recording.
They attribute their unique sound to a songwriting process whereby each sister develops and brings a different element.
"I write lyrics and also play guitar," said Greta, "so I'll do some of the arranging of a song. Willow is the lead fiddle player for the group, and she loves writing, too. She does a lot of the new instrumental tune writing. Our younger sister Solana is the lead singer, and she'll add her interpretation of the songs. She also plays a bunch of percussion instruments, and she'll bring a little sparkle to make the sound more interesting."
Writing in Folk Words Review, Tim Carroll said, "The Gothard Sisters have perfected their handling of Celtic influenced contemporary folk … the true magic comes from their ability to craft music both fresh as a sunrise and yet drenched in tradition."
In October, the Gothards will embark on a 20-city concert tour of Japan in partnership with a cultural exchange concert series there. "It's interesting how Celtic music has spread so far. It'll be fun to bring our brand of it over there." The sisters have also performed with a Disney Cruise Line in Europe.
To learn more about the Gothard Sisters and listen to their music, visitGothardSisters.com
The free Pastorius Park Summer Concert Series is supported by both the Chestnut Hill Community Association and the main sponsor,Chestnut Hill Hospital.
The Gothard Sisters performance is sponsored by Merrill Lynch-Nottingham, Walsh, Goodman & Associates.
Thank you to our Concert Sponsor
Help Keep Pastorius Park Concerts Safe for Everyone
As many of you know, Pastorius Park is one of Philadelphia's most beautiful parks. We are very fortunate to be able to have the 71 year-old Pastorius Park Concert Series in this beautiful location. In order to produce these concerts the Chestnut Hill Community Association pays a fee to the city to rent the space that includes the amphitheater and the areas in front of and behind the stage area. As part of our contract with Philadelphia's department of parks and recreation the CHCA assumes responsibility to keep the concert area as safe as possible.
In order to keep people safe and address any risk of damage to city property, be advised that climbing on the stone steps or walls around the stage area is not allowed and only performers or invited guests are allowed to use the stone steps along the side of the stage to access the area directly behind the stage. Please ensure your children are aware of this restriction. We greatly appreciate your help in making the Pastorius Park concert series a safe and enjoyable community activity for everyone.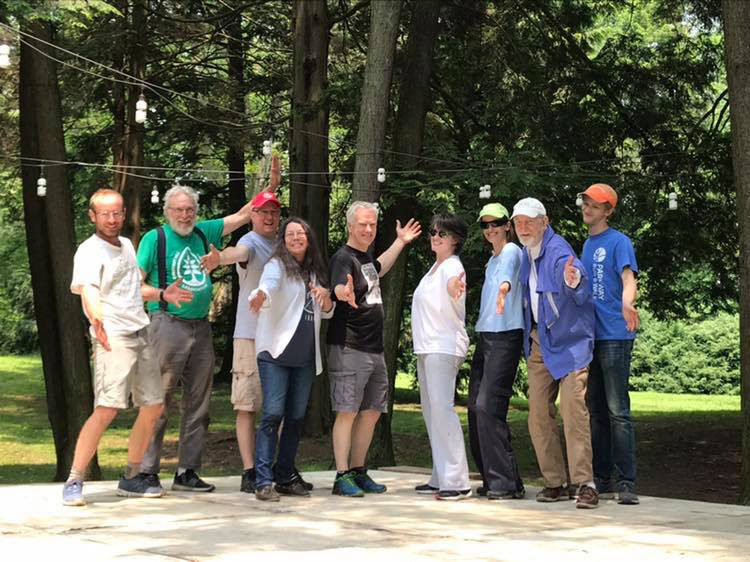 Help Us Take Down the Pastorius Park Concert Stage
Our concert series happens each year because to the hard work of our volunteers who plan the concerts, set up the stage at the start of the season, and carry chairs, tents, concessions, and signs from the shed to the amphitheater each week. They collect donations in the fish bowls, make announcements on stage, and welcome all of the community to enjoy evenings filled with beautiful music in Pastorius Park.
Now that our concert series is coming to close we are asking for help to
take down the concert stage in Pastorius Park on Saturday 27th July at 10:30 am. Please join us!
Grab your work gloves and meet us in the amphitheater area on the Millman Street side of the park. We'll provide light refreshments and good company! Any time you can spare is appreciated.
Directions to Pastorius Park
Please be mindful of our Chestnut Hill neighbors and do not park where there are No Parking signs, or block driveways, when attending the concert. And please do not throw anything into the pond
Pastorius Park is located two blocks west of Germantown Avenue, on Millman Street. Click to view google map.
Rain location
If a show is rained out, it will take place at our new rain venue, Springside Chestnut Hill Academy's Chapel, Enter from 500 West Willow Grove Avenue. Look for our CHCA event signs.