Your outdoors is calling!
(and it wants an update)
Tailored Home is here to glam up your exteriors just in time for spring: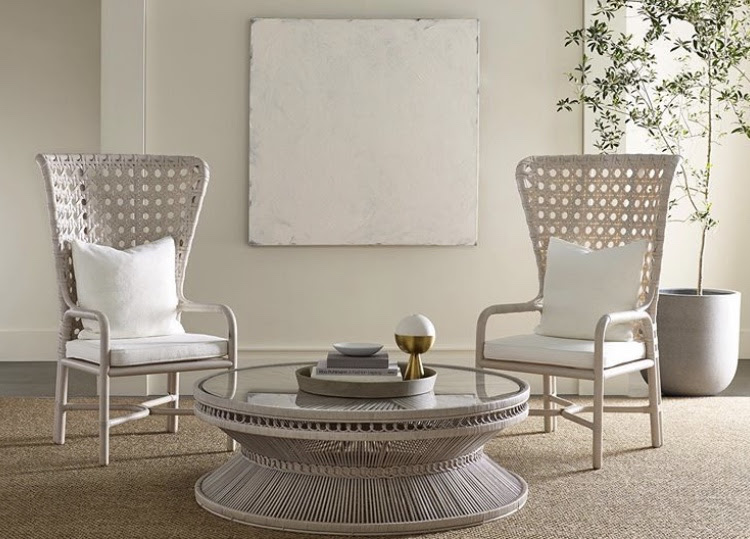 If you love the modern look this is where to go! Artfully made pieces that capture the eye is what McGuire is all about. Each and every piece of furniture is crafted by trained artisans who bend, weave and form every table, chair and accessory by hand.
One of my favorites, The Nozomu Hanging Chair
Woodbridge focuses on high end finishes and construction. They have a reputation for classic lines and timeless pieces. Custom paint and upholstery available.
 One of my favorites, The Jupiter Collection 
Not only is this outdoor furniture durable, beautiful, and resilient, but it is an innovator in recyclable materials. Their Envirowood – a 100% High Density Polyethylene (HDPE) lumber is made from recycled plastic bottles and containers, and a great eco-friendly option for your outdoor hangout spot.
One of my favorites, The Aura Round Fire Table
 A pillar of Sutherland Furniture is teak, it is renowned for its unique natural properties that require decades of growth yet withstand the test of time. Resulting in incredibly water and weather resistant outdoor furniture.
One of my favorites, The Plateau Daybed/Sofa
follow us on instagram @shoptailoredhome
Upcoming Events:
 February 23rd-26th
Tailored Home is re-arranging.
We are having a floor move & releasing new merchandise!
Store may be closed during these days.
Friday, February 28th
11am-12pm
Nolan Paint & Tailored Home Collab.
A discussion about paint options, color trends, and design.
Giveaways and treats available: rsvp here
Sunday, March 1st
Matouk 2020 bedding release!
You will be in awe!
Wednesday, March 3rd
Micheal is Back!
Free antique appraisals 1pm-3pm
March 30th – April 27th
Simon Pearce Free Engraving Event
More details to come
*some exclusions apply